The Cook - Edu Valor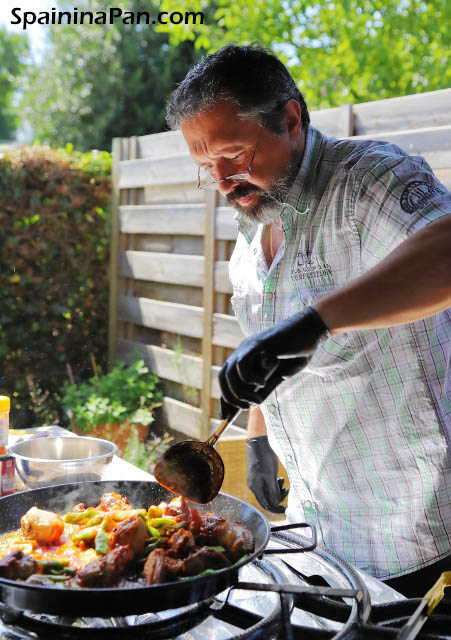 Preparing an authentic paella Valenciana.
I'm passionate about cooking Spanish food. Always with its taste in mind. To bring you nothing less than exquisite dishes from authentic Spain. My recipes are the real deal!

As a teenager, I was already experimenting with desserts or discovering new ones. 
There was the occasional surprise when I opened the frig to find the desserts gone. Yes, I had a knack for cooking, just like my cheeky sisters.
We were and still are competitive when it comes to food.
Ensaladilla, paella, cocido, zarzuela, puchero, pinchos, huevos rotos, arroz con leche, and more are all standard in our homes. Diversity is the recurring,  magic word.
Even in college, a little voice kept reminding me becoming a chef might be another option besides film school.

A New Era
With that passion for food, sooner or later one of us would start a restaurant, and so it happened! "Pasión y Sabor" was the birth-child of my sister Isabel and her partner Johan.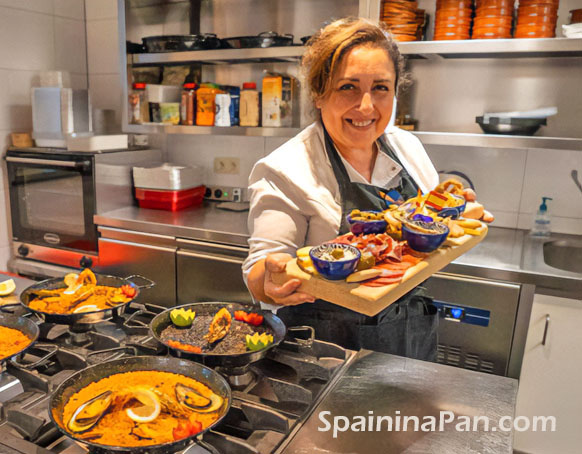 Isabel showing a mixed tapas dish
Making good food artfully is the goal. So, the customers keep coming back.
It is all possible from Belgium. The country my parents moved to in the 60's. Ingredients were always available despite where we live.
Local produce is excellent. If we can make delicious food, you can too! Spanish (online) stores in our region are there in case we need that "special" ingredient.
Or we just bring them in from a trip to Spain.
For enough reasons, our decades of experience and culture are dedicated to you. The visitor of SpaininaPan.com.

Taste, Taste, Taste!


Cooked leek with romesco sauce. Simple and good at the same time.
Did I say taste? For people to enjoy food, taste and fresh ingredients are everything. You can't have one without the other.
Obviously, a good restaurant chef knows all about taste. The importance was even more drilled into me when I was a care taker for my mother.

She suffered from CKD (Chronic Kidney Failure) and had to keep a low salt diet.

That forced her and me to cook saltless. Yet, with the help of her dieticians, we managed to prepare enjoyable foods that I had myself.
A sorrow shared, is a sorrow halved. But honestly, I liked the CKD dishes. You'd be surprised what can be done with lemon juice, vinegar, herbs, and a few other things.
I got creative and learned new taste enhancing techniques. It's part of the job, whether you cook with or without salt. It expanded my knowledge.
In a restaurant, it speaks for itself why a dish is tasted before serving. It's a good habit to have.


The USA Surprise
I guess you could say I'm well traveled. Visiting a foreign country is an opportunity to explore the culture. Including local dishes.
My culinary radar (read appetite) is always on. So I'm curious about (foreign) foods. 
Thai is a favorite and always a pleasure to have, but I've never been to Thailand.
Without going down the road of which-is-best, I still stick with the Spanish cuisine. For the taste, the connection with my heritage and the health aspect. It's a personal preferation.
Countries I visited:
USA: Utah, Idaho and Nevada.
the Netherlands
Germany
My home country Spain
the UK
France
Luxemburg
I live in a multi-cultural area, and have a wide range of food experiences. I'm no stranger to Australian or Jamaican dishes, or how about Peruvian and Ghanaian? 
There was a surprise awaiting in the USA, way back in 1996. What I considered fast-food country number 1, I realized we had yet to wake up to the American cuisine.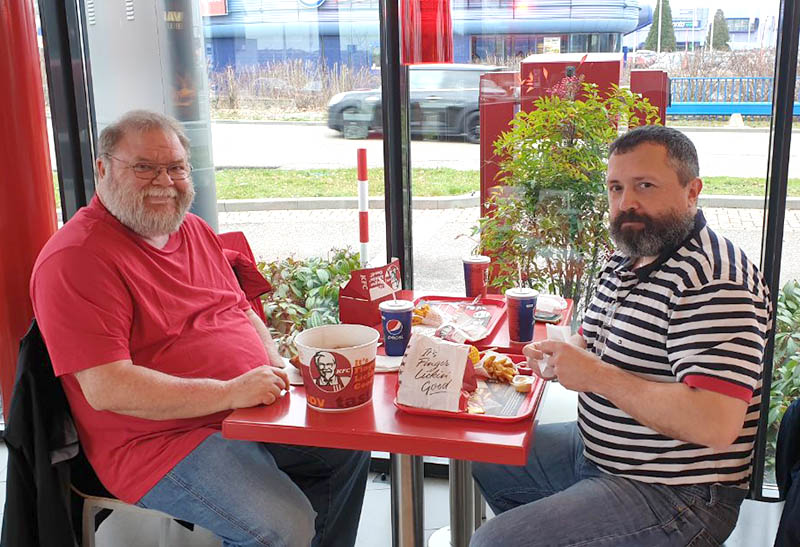 With my good friend Tony from New Jersey. Having the occasional KFC is not a sin!
Before the Internet, a lot of Europeans considered American food to be no good and unhealthy. Or so we thought!
Nowadays, more and more people know how wrong they were.
I had some of the finest meats you could find, rivaling Argentinian meat dishes. Duck roasts that were just as refined as the ones in France.
If I had to name just one thing, Americans really do excel at preparing several kinds of meat. Besides that perfect, non-fastfood burger in Utah, in the summer of 1996. Okay, that's 2 things!
Meat and burgers really are an American specialty. They were so good, while admiring the incredible landscape of the Rocky Mountains.
Edu Valor